NASB's new mobile banking app is now live. Please delete the existing NASB app and download the new one.
Mortgage Down Payment Calculator
Find out how much a down payment affects other variables like rate and monthly payments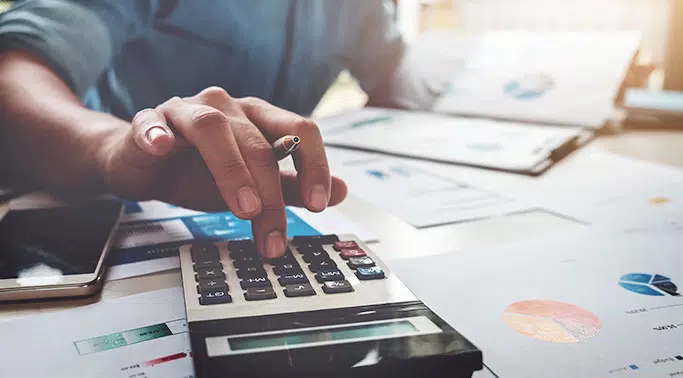 This tool helps you determine whether it is better to put a smaller or larger down payment on a home given other loan terms. Usually the longer you intend to hold the loan, the greater the advantage in using a larger down payment because you'll likely pay less interest over time. A large down payment may be less helpful if you intend to sell the home, refinance, or pay off the loan in the near future.
If you enter a down payment that is less than 20% of the home purchase price, the calculator estimates a monthly amount for private mortgage insurance (PMI). Mortgage lenders generally require that you obtain mortgage insurance if your down payment is less than 20% of the home purchase price.
---
Minimum loan amount of $175,000 required to apply. Exceptions include mortgage products for properties located within the Greater Kansas City metro and surrounding areas. Contact a NASB Loan Officer for more details on the specific areas and/or zip codes excluded.
External Links Disclaimer
If you click "Continue" an external website that is owned and operated by a third-party will be opened in a new browser window. North American Savings Bank provides links to external web sites for the convenience of its members. These external web sites may not be affiliated with or endorsed by the bank. Use of these sites are used at the user's risk. These sites are not under the control of North American Savings Bank and North American Savings Bank makes no representation or warranty, express or implied, to the user concerning:
the information, content, presentation, accuracy or opinions of these sites, or
the quality, safety or suitability of any software found on these sites.
Using a hyperlink may identify you as a North American Savings Bank member to the operator of the external site.
North American Savings Bank does not provide and is not responsible for the product, service or overall website content available at these sites. The privacy policies of North American Savings Bank do not apply to linked websites and you should consult the privacy disclosures on these sites for further information.
If you click "Cancel" you will be returned to the North American Savings Bank website.